Our OLPRO Camping Furniture is finally here! After much anticipation, we have finally dropped our own camping range, including storage units and camp chairs. Below we have broken down the details of all our new furniture products.
Collapsible Camp Storage Cupboard: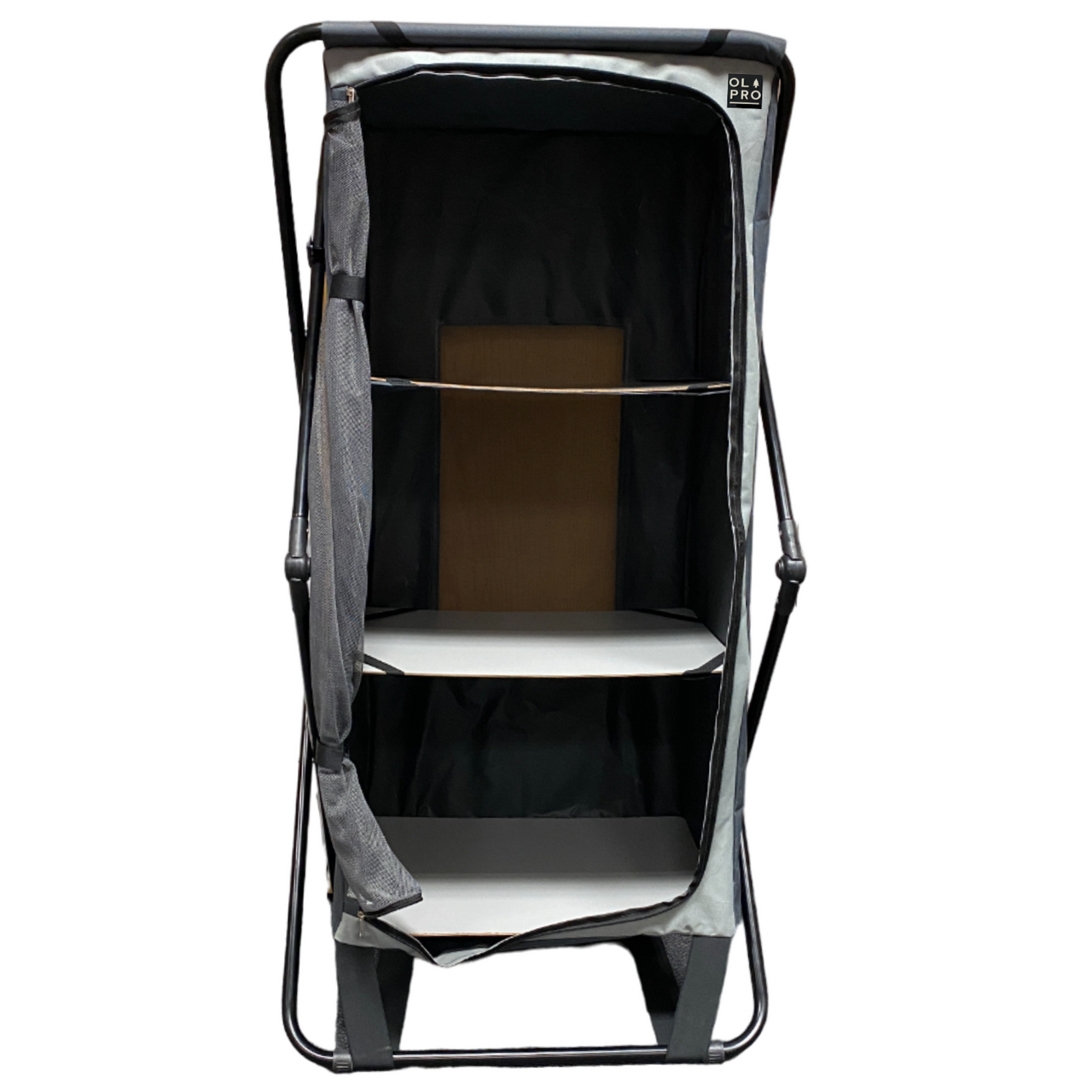 Our OLPRO Collapsible Camp Storage Cupboard is made with a pop-up design for your convenience. The Folding frame is made from sturdy aluminium that allows you to store up to 15kg of weight (7.5kg on a single shelf). Each shelf is made from an MDF insert, helping to re-enforce the fabric shelves without the need for un-eco plastic. The Cupboard contains a zip-up door to keep bugs and dirt off your items.
Key Features:
Weight limit: 15kg
7.5KG Weight limit per shelf
3 Shelves
Dimensions 47x52x121.5cm
Pack Dimensions: 76x60x13cm
MDF inserts
Collapsible
Storage bag included
Olympus XL Camping Chair: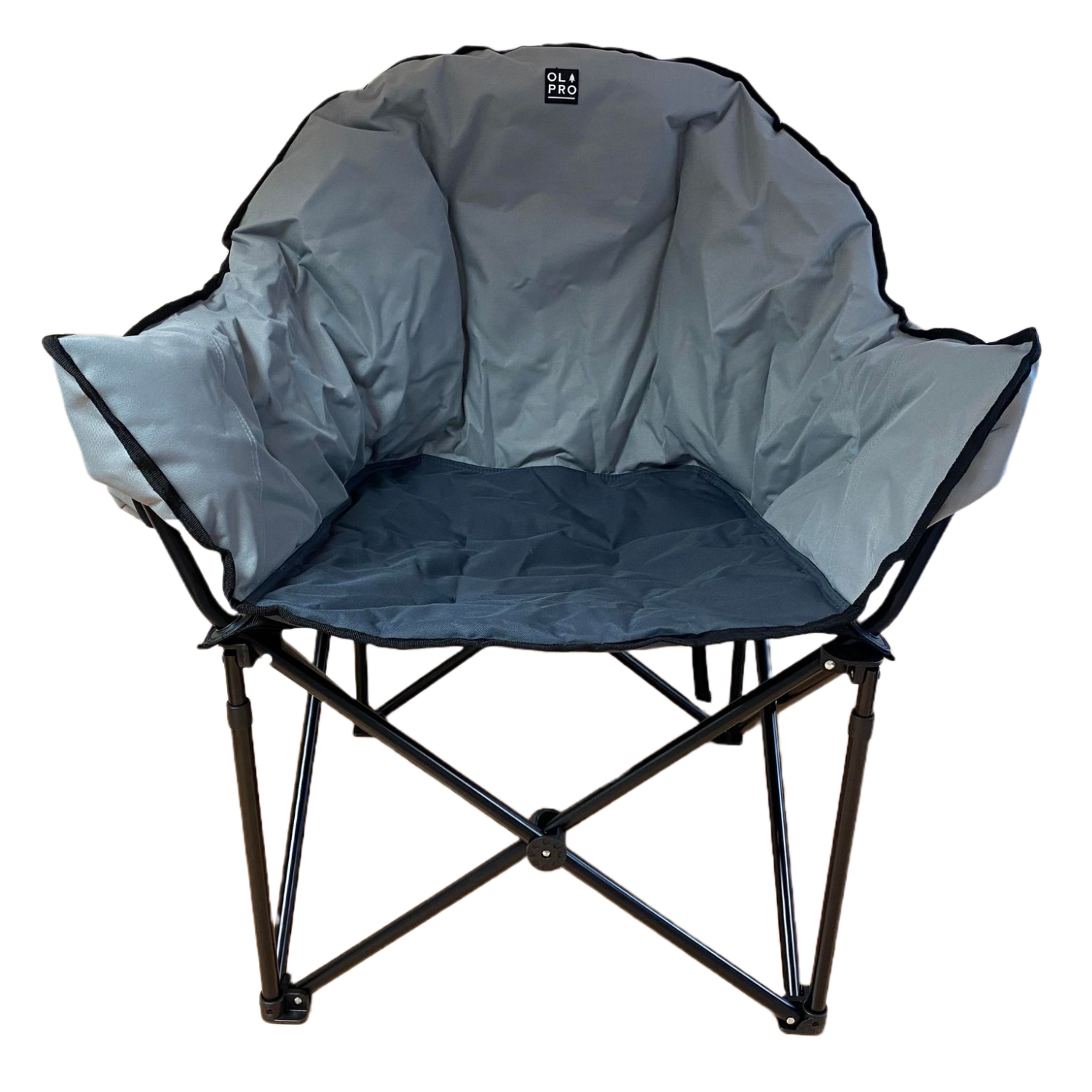 The Olympus XL is made from a moon shape design, creating the perfect camp chair that utilises comfort and durability. The chair is made from a high-strength steel frame that easily folds away into its storage bag. The chair can hold up to 130kg and is well-padded, making it perfect for festivals, camping and general use.
Key Features:
Weight limit: 130kg
Dimensions: 98x79x62cm
Pack Dimensions: 98x25x30cm
Made from a heavy-duty polyester fabric
Bucket/moon-style chair
Weighs 6kg
Storage bag included
Director's Chair:
Our Director's Chair is a lightweight steel framed sturdy chair, perfect for lounging out whilst at festivals or camping. The chair includes a folding side table, perfect for holding your book and drink. The table includes a built-in cup holder, specially designed to hold a mug due to its handle space. The chair also comes with a detachable storage pouch, perfect for storing your phone, keys, wallet, etc.
Key Features:
Built-in folding table with cup holder
Detachable storage pouch
Padded armrests
Lightweight steel frame
Weight limit: 120kg
Weighs 7.5kg
Pack Dimensions: 100x58x10cm
Dimensions: 90x58x63cm
Denali Deluxe Camp Chair: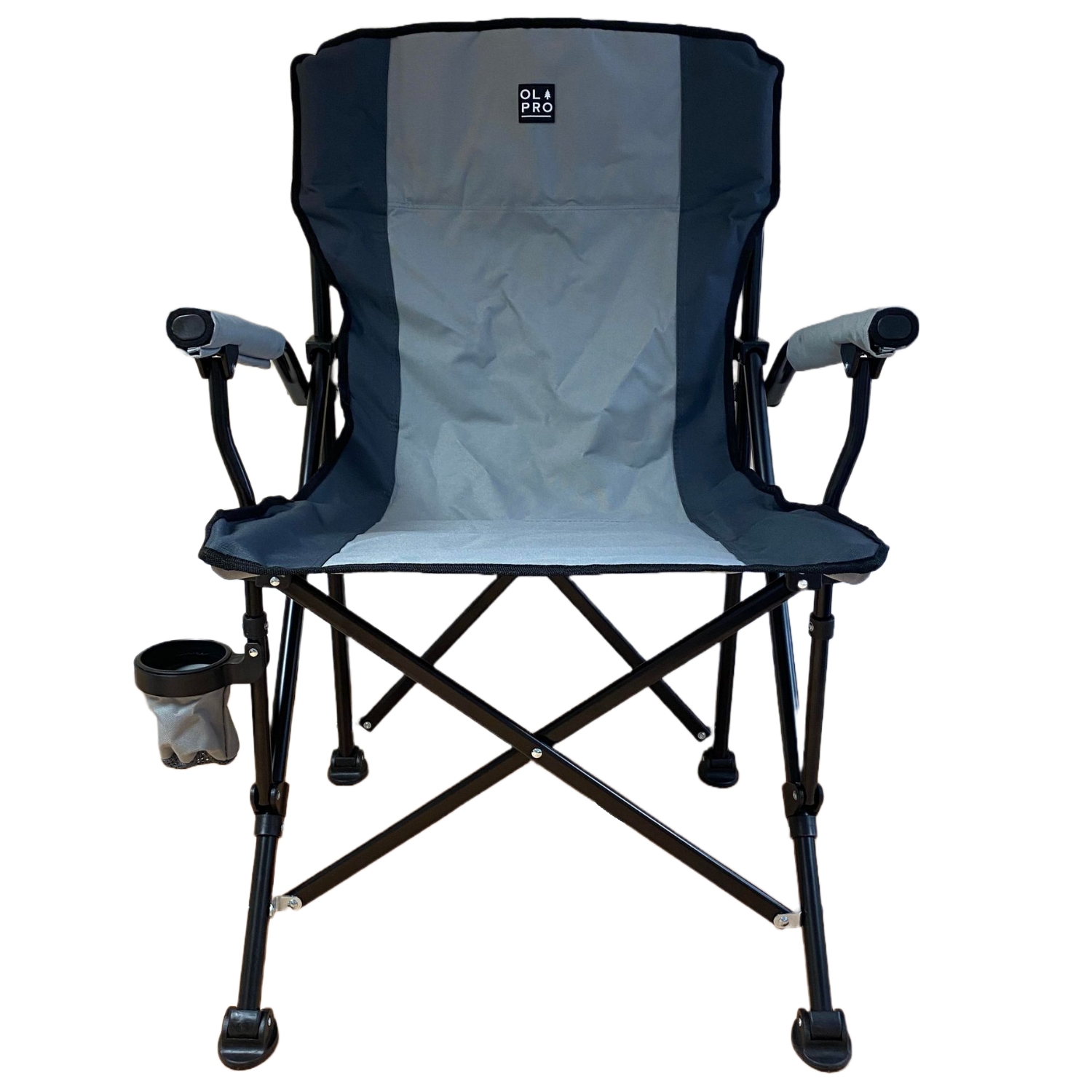 The Denali Deluxe is the perfect camp chair for people who want a comfy chair that also compactly stores away. Perfect for camping, beach days and festivals, the Denali comes with padded armrests for comfort and a foldable cup holder for convenience. The sturdy steel frame is built to last, with a maximum weight limit of up to 130kg. Like all of our camp chairs, the Denali comes with a storage bag, packing down to a minuscule 96x20x25cms for easy storage.
Key Features:
Dimensions: 93x55x55cm
Pack Dimensions: 96x20x15cm
Weight Limit: 130kg
Foldable cup holder
Padded armrests
Back support
Storage bag included
Folding Camp Table: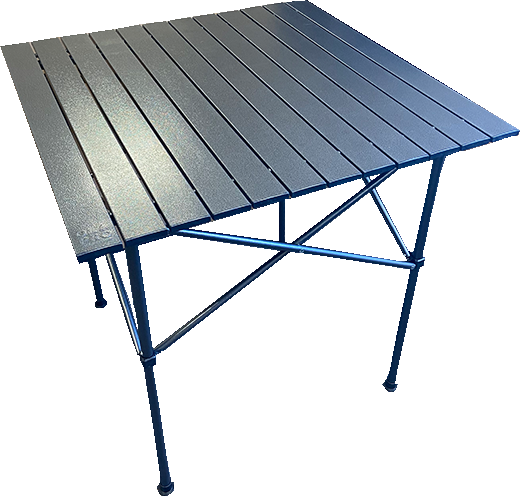 Our OLPRO Folding Camp Table is the perfect solution for camping dining. The table perfectly folds away to a pack dimension of just 70x20x20cm, whilst opening up to a generous 70x70x70cm. Made from a high-quality aluminium material, the tabletop is waterproof and easy to wipe clean, making it perfect for dining. The table uses x-style support brackets which provide a solid structure, giving the table a weight limit of 15kg.
Key Features:
Dimensions: 70x70x70
Pack Dimensions: 70x20x20
Weight Limit: 15kg
X-style support brackets
Made from high-quality aluminium
Storage bag included
Camp Storage Cupboard: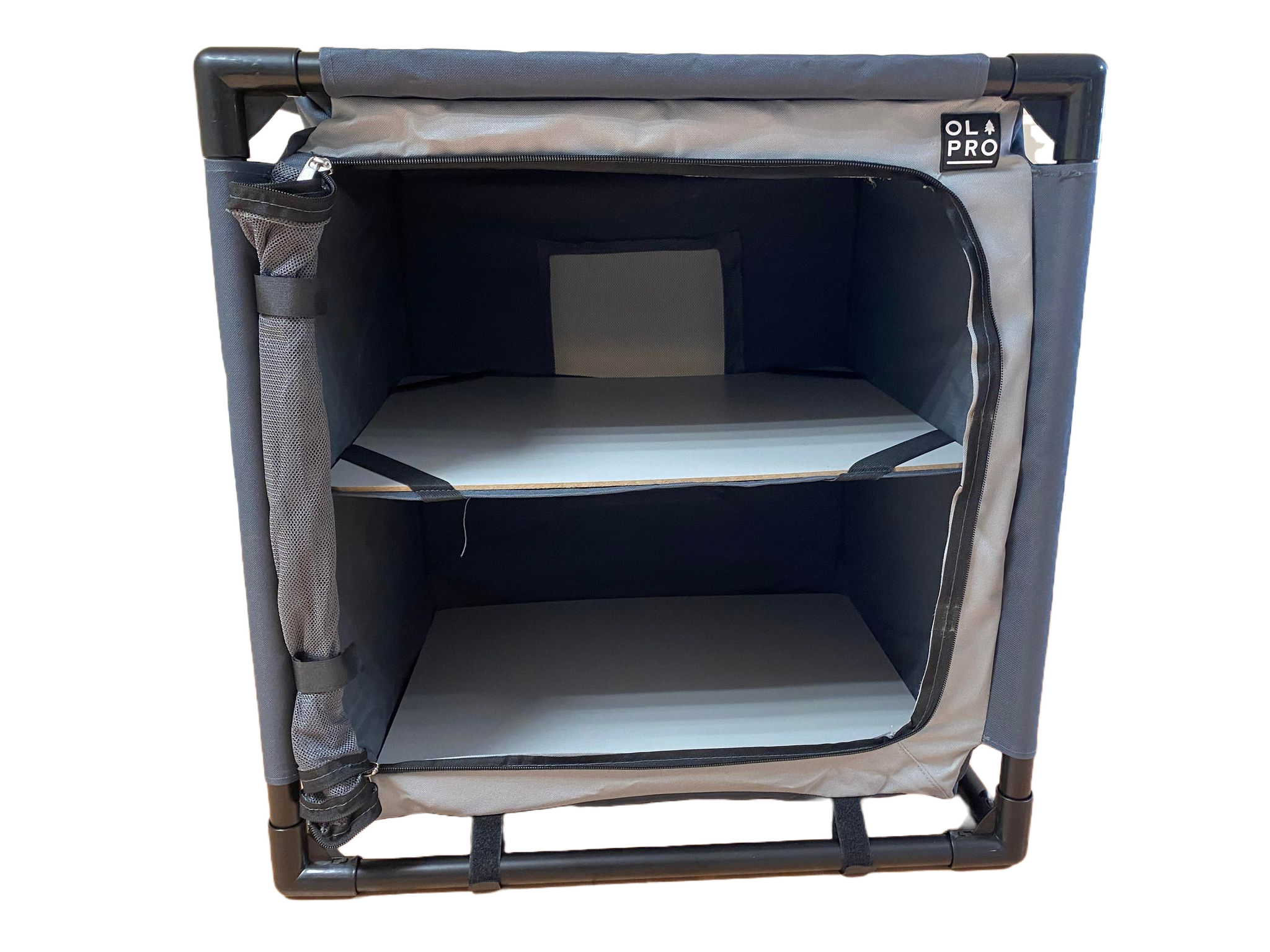 The Camp Storage Cupboard is perfect for storage whilst away in your van or tent. The easy-to-assemble cupboard comes with two storage compartments that are each reinforced with an MDF shelf. The Cupboard boasts a generous size of 60x46x64cm, whilst packing down to a compact 60x48x10cm. With a maximum weight limit of 20kg, there is ample space to store away food, cutlery and other day-to-day accessories.
Key Features:
Dimensions: 60x46x64cm
Pack Dimensions: 60x48x10
Weight limit: 20kg
Breaks down for easy storage
Two storage compartments
Shelves reinforced with MDF
Comes with a slimline carry bag