The wait is over! We've got some of your favourite awnings and tents back in stock. Below we have gone into detail about the products that you can now get your hands on.
OLPRO View 420 Caravan Inflatable Porch Awning with Porch Extension: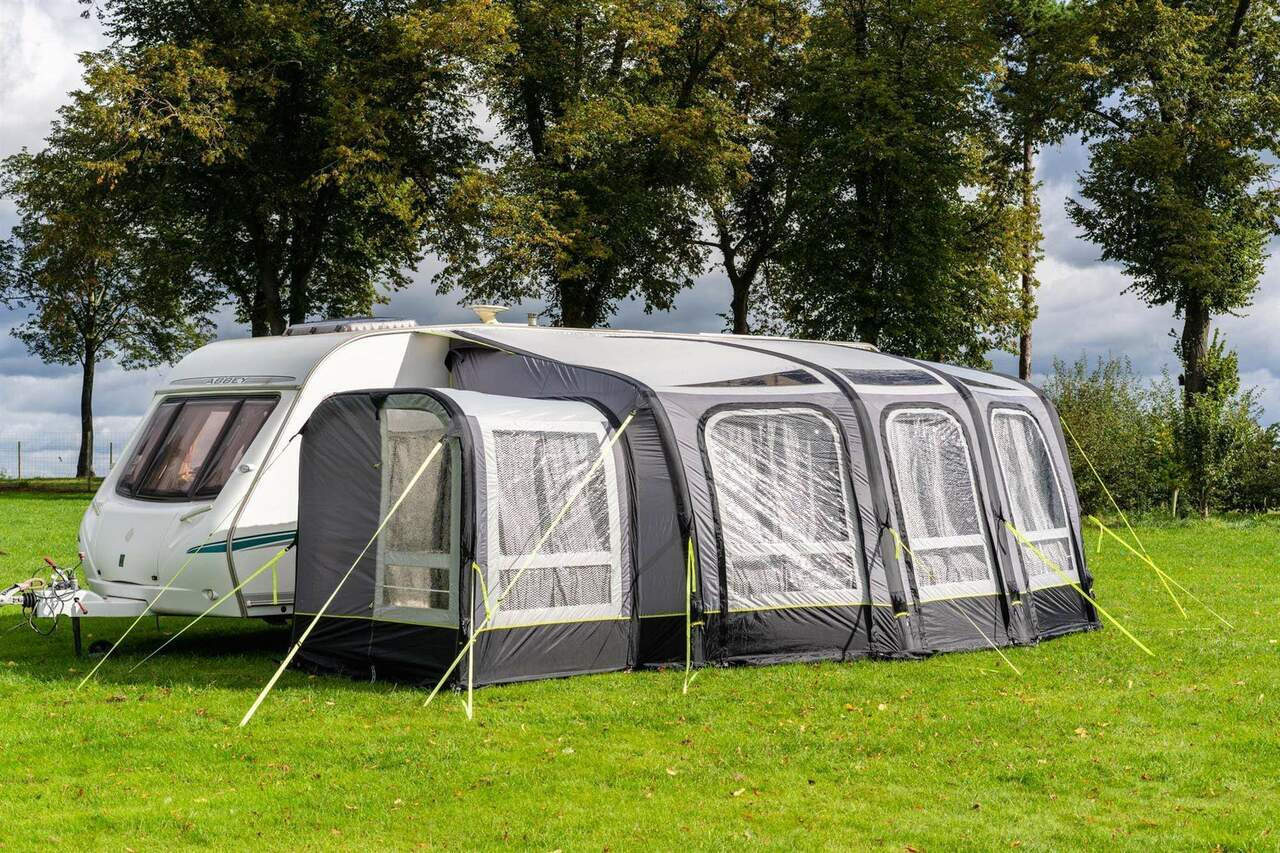 The View 420 awning is the perfect extension to any caravan, offering you the option of extra living and sleeping space whilst holidaying in your home away from home. The awning even comes with a porch extension that can be attached to either end, creating even more space. The inflatable awning can be pitched in just 10 minutes. The front panels of the awning can be completely removed, turning it into a veranda.
Key Features:
10-minute pitch time
5,000mm Hydrostatic Head
Inflatable beams
Removable door panels
Panoramic shape
Tinted Skylights
Additional porch extension
420x240cm
OLPRO View 300 Inflatable Caravan Awning with Extension:
If you want a slightly more compact Caravan Awning than the View 420, The View 300 is perfect for you. 120cm smaller, the View 300 is perfect for creating more space on your next adventure, whilst taking up less room. The front panels can be removed to turn the awning into a veranda, meaning you can make the most of the extra sheltered space during warmer weather. The Awning also comes with a porch extension, giving you the option to create a larger space.
Key Features:
10-minute pitch time
5,000M Hydrostatic Head
Inflatable Beams
300x240cm
Panoramic shape
Tinted Skylights
Additional porch extension
Removable door panels
Hive Breeze Campervan Awning with Sleeping Pod: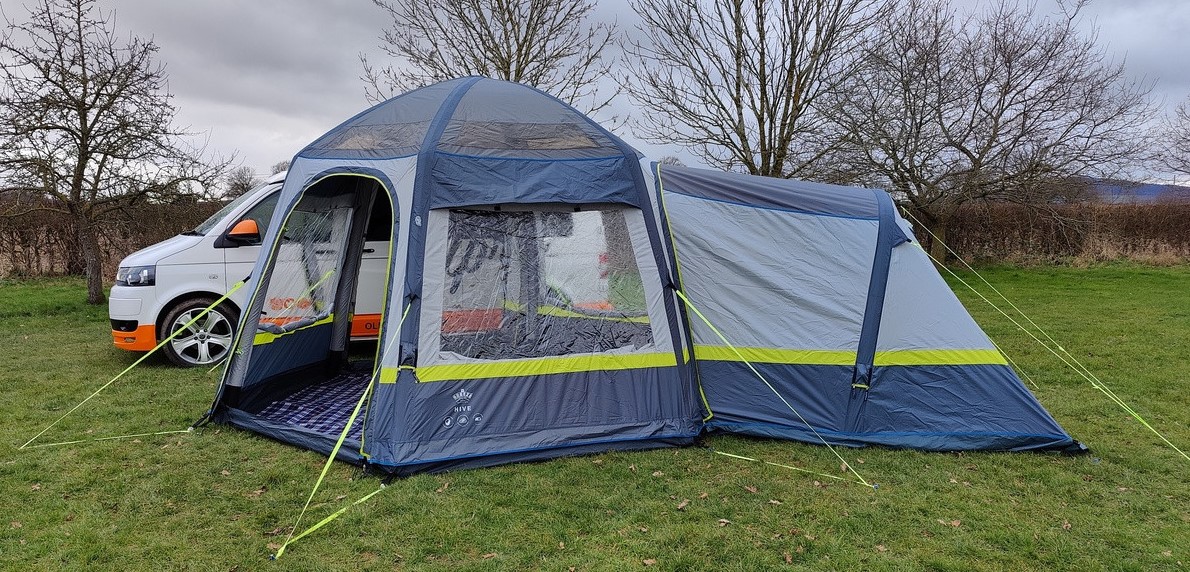 The Hive Breeze Drive Away Campervan Awning is a six-sided awning with plenty of living and sleeping space due to the attached sleeping Pod. This means the bedroom isn't taking up your valuable living space. The Hive has five impressive square windows with closing top vents that give you a three-hundred-and-sixty-degree view, and the skylights in the roof fill the Hive's living area with light. The tunnel connecting to the campervan has two access doors, so there is no need to walk through the awning to get to the van. The sleeping pod has a large inner tent that will fit a double air bed or can be removed to enlarge your living space further.
Key Features:
2 Berth inner
Skylights
Two access doors on tunnel
Three-hundred-and-sixty-degree view
Attached sleeping pod
Drive-away
Removable bedroom inner
Inflatable beams
Pitch in 20 minutes
Sewn-in groundsheet
OLPRO Cali Breeze Inflatable Campervan Awning: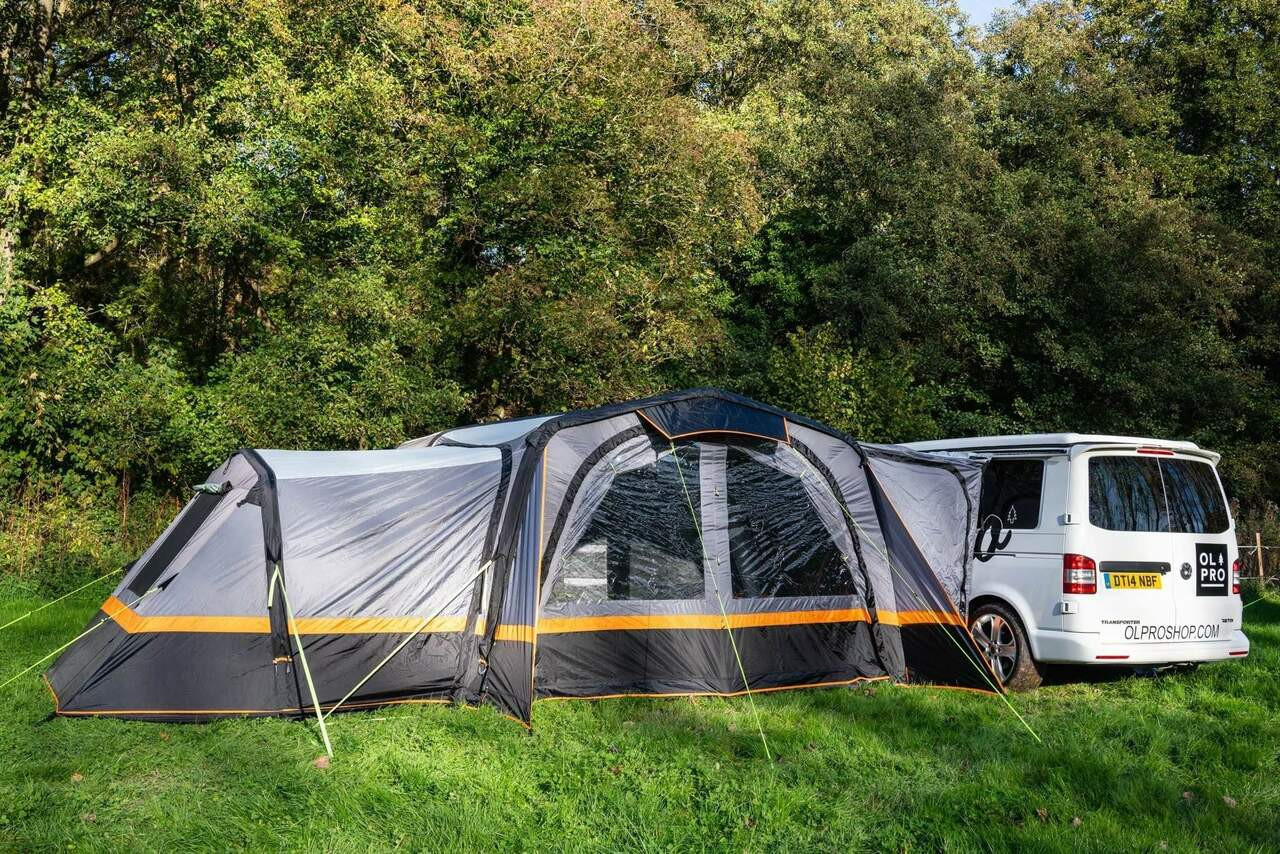 The Cali Breeze Campervan awning is one of our largest Drive Away Campervan Awnings. It includes a 4-berth inner tent and comes with a detachable 2-berth bedroom pod for added sleeping or storage space. With an erection time of just 20 minutes, you'll be sat relaxing in no time.
Key Features:
5,000mm Hydrostatic Head
6 Berth
20 Minute Pitching time
Inflatable beams
Sewn-In Groundsheet
Drive Away
Detachable 2-berth bedroom pod
Cable entry point