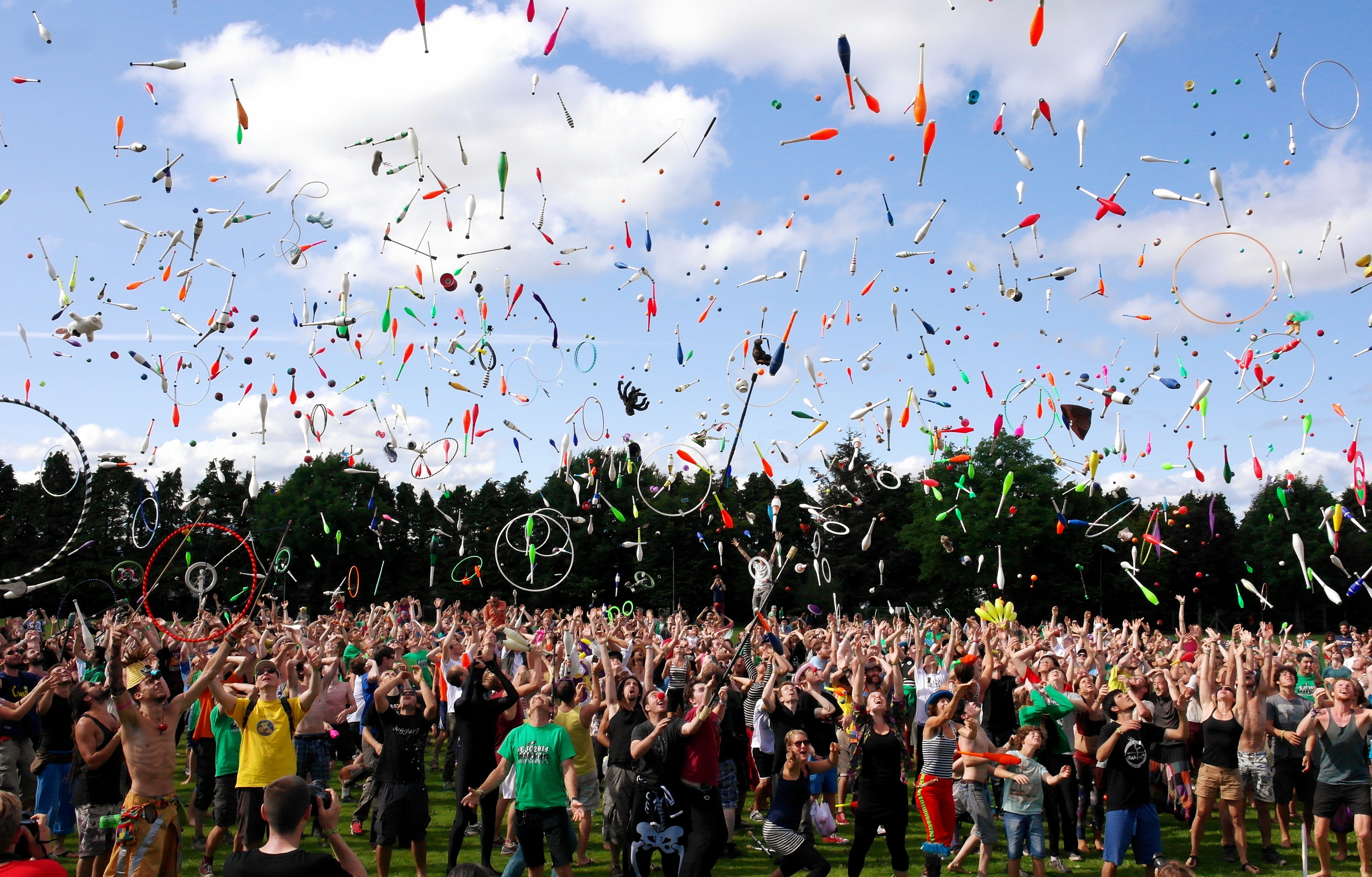 Festival season is almost upon us which means it's time to start thinking about all the essentials you need, all the tips and tricks to ensure you have the best time and the must-haves you simply cannot go without!
Invest in a GOOD Portable charger
Although most festivals have charging lockers, it's a good idea to take a good quality portable charger in case they're full, or you just can't be bothered to walk to them and leave your phone at a charging point.
Walkie Talkies
Not only are walkie-talkies convenient, but they're also a lot of fun when at a festival with your mates. If you want to leave your expensive phone at home, you keep in touch instead via your handheld transceiver and feel like you're little kids again.
Air Tag your tent
Buying a flag has become customary for most festival goers as a way to find your way back to your tent. Instead, if you're braving taking your iPhone with you, why not pop an Apple Air Tag in your tent to locate your pitch? Just simply hide the tag in your tent, and use Find My iPhone when finding your way back to your set-up. You'll never have to aimlessly wander the site again.
Sanitation Essentials
Make sure to pack your sanitation essentials, such as hand sanitiser, Wipes, Deodorant, Dry Shampoo, Tissues (We all know loo roll is hard to come by in portaloos), wet wipes (these will probably become your version of a shower), Hair bobbles and Feminine Hygiene products, just in case you're caught short. We'd also recommend investing in chewable toothbrushes or a mini bottle of mouthwash in case you can't access water to properly brush your teeth. Lastly, make sure to pack a mini first aid kit that includes the essentials such as sun cream, paracetamol, plasters, and disinfectant wipes.
Avoid taking valuables
We'd recommend not taking any valuable items such as jewellery away with you for a festival. They can be lost or stolen, and if staying in a tent there is no way to ensure their safety when you aren't around. Even if you're on your best behaviour it just isn't worth the risk, so it's always best to leave these items safely at home.
Wrap sturdy tape around your water bottle
If you are taking a trusty water bottle away with you (which we would also recommend as most festivals have refillable drinking water stations), wrap it with sturdy tape. You never know when you're going to be caught short with a rip in your tent or a hole in your shoe, and this is a fabulous way to make sure that you have a resolution handy.
Stock up on waterproofs
When attending a festival in the UK (or anywhere, it's just more likely in the UK) there is always a chance of rain, and being unprepared for damp weather is never a good idea. Make sure you pack wellies or waterproof walking boots, an Umbrella, and a waterproof jacket. This guarantees that even if there is rain, you will still have a fabulous time enjoying your festival.
Invest in a good tent
One of the most important things at a festival is getting a comfortable night's sleep, setting you up for the day ahead. On our website we have a broad selection of tents perfect for festivals, but here are our top recommendations.
The Abberley is a fabulous option for festivals! Easy to pitch and made from a waterproof fabric, the Abberley will suit any festival goer. The tent includes a removable inner, allowing you to separate the two compartments and a fully sewn-in groundsheet.
With an average set-up time of 1 minute, the Pop Tent is a perfect easy-pitch tent. With a fully sewn-in groundsheet and room for 2 people, it's a great option for both convenience and comfort.
If you want that bit of extra room, the Abberley XL is perfect. This 4-berth tent has standing room for a 5-foot 6 person, making it a fabulous option for more comfortable living. The Abberley XL can be pitched in just 20 minutes, meaning you can better spend your time enjoying the festival. Made from waterproof polyester with a fully sewn-in groundsheet, this tent is great at protecting you from the elements if the weather takes a turn for the worst. The tent even comes with poles to turn the door into a canopy, allowing you shade from the sun on warmer days.
Make your camp feel like home
Making your festival campsite feel like home is all part of the fun. Below we have listed some of our favourite accessories to help create your home away from home.
Windbreaks are a fab way to add privacy to your set-up, creating your own little haven. We offer a variety of Windbreaks on our websites. You can choose from 7 designs and choose between either compact steel or wooden poles.
I'm sure we have all seen the videos of tents blowing away at festivals when the weather has taken a turn! Nobody wants to come back to find that their tent has blown away, so we recommend investing in some hard-wearing tent pegs.
Our OLPRO sleeping bags are perfect for festivals! They can be opened up and used as blankets when sat around the fire, or even zipped together to create a double sleeping bag!
Eat at least one large meal a day
It's easy to skip eating a full meal at a festival because of the incredibly long queues for food trucks, but it's always best to make sure you buy or make at least one large meal a day, especially if its hot and you're drinking alcohol. When it comes to foods you take with you we would recommend taking protein bars and loads of water just in case.
Additional Items to take
Bin bags: Bin bags are an essential item to take with you to festivals! Not only are they fabulous at their main purpose, being used as a bin, but they're also great if you need a makeshift poncho or a way to transport your soggy clothes and muddy shoes home without destroying your car or public transport.
Bum bags: Everyone needs a bum bag if they're going to a festival. They're so incredibly convenient to store your phone, sweets, chewing gum… anything!